The old saying "Good things come to those who wait," is usually true. This is one of those instances where it is not the case. I suggest,that you pre-register NOW, by taking this link:
First off, a big thank you to those of you who have already registered for Chryslers in the Canyon V...we sincerely appreciate it! For everyone else, pre-registration is quick, easy, and will likely consume only a minute out of your day. Those of you who pre-register for CIC V before Sunday, September 1st, 2013 might also win something for your troubles...
Bill (blcd74) has put up a coupon good for a sketch of your Mopar. The finished product, might look a little something like this: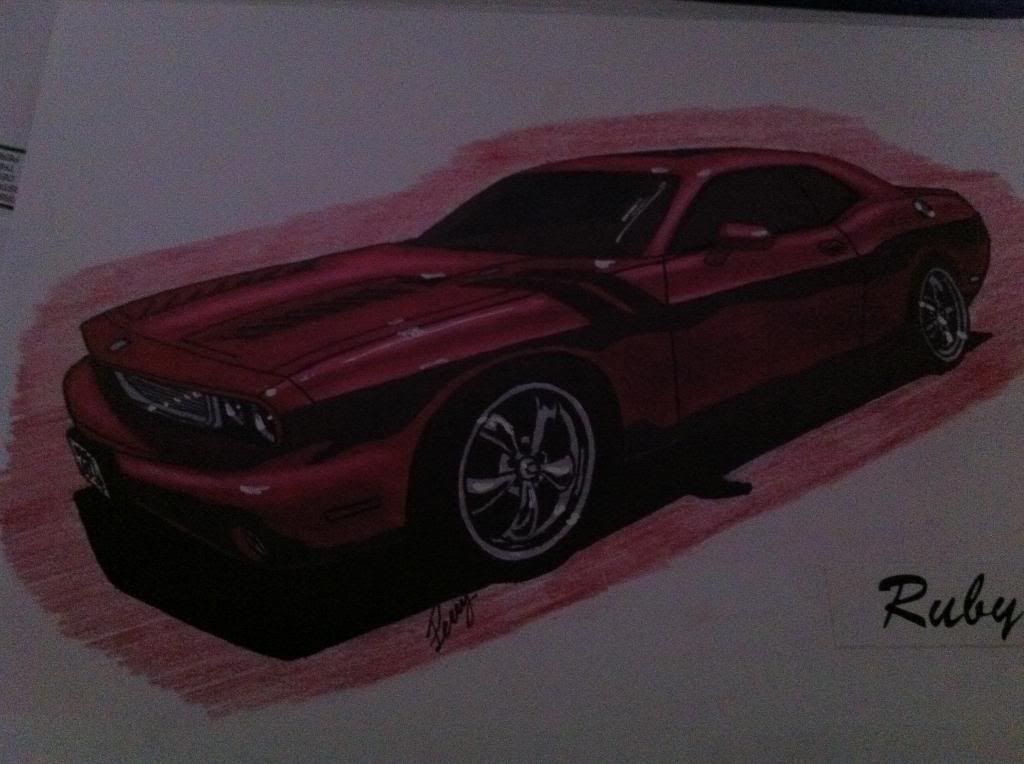 You've likely seen us pleading for folks to pre-register for Chryslers in the Canyon V for a LONG TIME. This helps us know how many Mopars and how many people to expect. Did you know that some of the paperwork I have to fill out PRIOR to the event is the park wanting to know how many cars and how many people will be attending? Most importantly though, pre-registration helps us know how to structure parking and awards. Yep, that's right...the awards will be based on PRE-REGISTRATION.
This is a FREE SHOW and Registration has been open since January. We want everyone to have a great time and come back each and every year with more people...It is just not possible to crank out awards a week or two before an event of this magnitude. It all takes time...and let me again mention, this is a FREE ALL MOPAR EVENT!
We'd love to make 1st-5th Place Awards for everything under the sun, but let's face it...the odds of a 1975 Dodge Charger or an 80s Diplomat showing up are slim....very slim. What about the Ram Conversion vans of the 90s? I've never seen one in a show...doesn't make sense to make an award for one does it? That is our logic.
However, where that can be an issue is in who to expect. We could just as easily have a segment of 30 66-74 A-Bodies as we could 20 late model Challengers and 10 late model Chargers. Mopar folks are loyal. Unlike brand-x drivers who may pilot a toyota tundra during the week, have an 80s silverado for the river, a fox body mustang for the street, and a camaro for the race track, we tend to have pure bred, Mopar stables.
If you drive a tricked-out 99 Dodge Ram, have an SRT weekend toy, and own a 68 Street/Strip Dart and 72 Challenger, it is hard for us to predict what you are going to show up in...Are you going to bring 1 Mopar, 2, or all 4? If you don't tell us, we don't know. Think how different the show field would look if everyone brought their trucks...or if all the E-Bodies came. We want to have the awards in place to reflect the attendees...that can only be accomplished with everyone's help.
Chryslers in the Canyon is a FREE All Mopar Event. We do not make money. We've been fortunate enough to have folks like Larry and Dallas at D&L Automotive Machine and Race Engines kick in to cover dash plaques and awards in the past. We similarly have a very small group of active members who cover the cost of virtually everything involved. While all of us in this small group technically loose money on the show, we are in it for the Mopars. The cars, trucks, and the people that drive them is what makes us want to pick up the tab on the facilities and awards. That said, I will not spend, or have anyone else spend, for awards that we "think" might be needed. Pre-register now and help us make the show the best it can be, for as many as possible. If the car count is there, the award will accompany it!
Again, please make sure to pre-register and tell your friends. Pre-registration is non-committal, but if you plan to attend, it will help us make the event the best it can be...We are currently only 8 Weeks away from CIC V!! Get ready for a good time!
Oh, and that custom sketch? Everyone registered by 9-1-2013 will be eligible to win. We will draw one lucky winner, at random, and present the certificate as the first award. Big thanks to Bill for putting this one the line...We hope you take advantage of the offer: